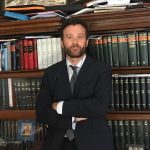 Credentials: Managing partner of Arizon Abogados S.L.P. and the head of the shipping and trade team.
Often cited as one of the best lawyers in Spain for maritime and trade law, some of the credentials of Dr Arizon are the following: at the age of 35 Felipe Arizon became a Doctor in English Law, five years later he became an author of the Lloyd's Shipping Law Library. He obtained his doctorate degree while leading for eight years full-time the running of a law firm as head partner. He has been practicing law since 1998 and is a managing partner since 2000 till today. Co-Author of Maritime Letters of Indemnity. Felipe leads a team of practitioners in the field of commercial law with special focus on maritime law and international trade.
He is an acclaimed Barrister before Spanish Courts with over 22 years of legal practice; High Courts; Appeal Courts, and Supreme Courts, matching his Court appearances with outstanding records. Dr. Arizon has been asked to provide expert evidence regarding Spanish Commercial Law in two litigation cases before the High Courts of Justice in London.
Felipe holds a Ph.D in English Law at the Univesity of Newcastle upon Tyne (England, 2008) in recognition of a thesis entitled "The Enforceability of the Letter of Indemnity in the Context of Shipping", and a LL.M. in maritime and commercial law at Southampton University (England, 1998). He was a Visiting Scholar at the University of Tulane-New Orleans, (U.S., 2006). He holds a Law degree from the University of Malaga (Spain, 1996) and was a trainee at Directorate General of Transport at the European Commission in Brussels. He was also a summer stagiaire at T. Sioufas Law Offices (Greece, 2000).
Felipe continuously acts before many international and domestic arbitration forums including ICC, Gafta, Fosfa, CNA, CAIP and RSA. He is regular contributor to various international and Spanish publications in the field of commercial law, carriage of goods, insurance and arrest of ships. He has been a regular contributor to the Lloyd's List of London. Author: "Ship arrests in practice" Questionaire and Spain chapter, Shiparrested.com, Málaga 2004-16. "El seguro en el transporte de mercancías," Spanish, WP* Logisbook, Barc. 2008; "Commodities & Trade Law," Spain chapter, GLC, London 2006.

Dr. Arizon has been a lecturer for the Spanish State Institute for International Trade on agency, franchise, transfer of technology, distribution, international and domestic sale contracts. He has lectured widely in many events in Spain and abroad, inter alia, in England (Lloyd's Maritime Academy), Russia, Ukraine, The Netherlands, France, Hong Kong, Singapore, Jordan, Malta and Turkey. He has taken part in events and lectures for LL.M students in maritime law at several Universities including: Menedez Pelayo-Santander University, Abat Oliva-CEU Barcelona University; Newcastle University (England), and Southampton University (England).
Felipe has been engaged on seminars at the Nautical Institute (England) and for commodities in El Cairo (Egypt). Dr. Arizon is permanent counsel of both the Ship Agent  and Port Operators Association of Malaga and of the Malaga Custom's Agents Bar. He is supporting member of the LMAA, member of the ASCAME's working commissions, of the Port Services Commission of the Malaga Port Authority.
Felipe Arizon is The Spanish editor and member of Forwarderlaw.com as well as The Founder of Shiparrested.com network.
Most recent cases of importance include; providing day to day legal advice to significant players of the commodity markets; ship agents, ship yards, London and Scandinavian P&I Clubs; half a dozen London arbitrations on different disputes arising from commodity sales contracts and marine work; two arbitration disputes before the Spanish Arbitration Associations; a collision case in the South of Spain; consulting work for several clients before the European Commission (Brussels) regarding food and competition law; the enforcement of mortgages on behalf of several foreign shipping banks; marine salvage disputes; the Court of Appeal judgment in R. v S. regarding a transnational dispute involving litigation before the Spanish Courts as well as before the High Courts of Justice in London; two ship sale & purchase files for Roro vessels; assisting different claimants to collect or secure their claims in Spain by the arrest of ships; various sale of goods arbitrations for biofuels in Spain and overseas; the enforcement overseas of two Paris awards.
Some landmark cases of Felipe's practice include:
The Bitland; a cassation appeal before the Supreme Court where he represented the shipowners and the Master
The Iran Hamzeh; a collision case before the Court of Appeal where he acted on behalf of the shipowners and their P&I Club in London
The MSC Shenzhen; a collision case at Algeciras Dry-dock on behalf of the shipyard
The Doxa D; two arbitrations claims in Paris where he acted for the shippers
The Nestor; arrest of a ship in 2001 to collect P&I Club unpaid premiums
The Iolcos Celebrity; lawsuit against the stevedores' insurers
The Tau Ceramica: lawsuit against the yacht's owner; hollywood actor Antonio Banderas
The Pioneer Koly & The Cec Commander: two significant cargo claims
The New Flame & The Fedra; post casualties files
A. v S. before the Court of Appeal of Pontevedra
R. v S. before the Court of Appeal of Seville, and before the Spanish Supreme Court
F. v F. and A. before the Court of Appeal of Lerida
S. v S. and S. before the High Courts of Málaga, a large cargo claim.
G. v A. before the Court of Appeal of Barcelona, a large sale contract dispute.
E. v. U. before the Court of Appeal of La Coruña, a large trade dispute involving arbitration in London and litigation in Spain before the High Court, Court of Appeal and Supreme Court.
The Endeavour, a ship'sdetention for alleged treasure hunting.
The Queen of Luck, before the Commercial Court of Cádiz, a ship arrest case challeged by opponnets.
N. v C. before the Courts of Navarra, a commercial contract dispute.
D. v. CN before the Court of Appeal of Valencia.
H v. S before the Court of Appeal of Tarragona and the Supreme Court.
M v T& B before the Criminal Court of A Coruña
C v C before the Arbitration Court and before the Superior Court of Cataluña in Barcelona
M v CC before an Arbitration Court in Paris
B v  C , a London arbitration
A v A, a London arbitration
In addition, Felipe has taken part in more than 200 international and domestic high profile arbitration disputes and many more litigation cases.
The everyday practice of Dr. Arizon involves; drafting and solving disputes arising from domestic and international distribution and sale contracts of commodities; bill of lading and charter party dispute, salvage and ship arrest work, arbitration work in Spain and overseas; arrests  of ships in Spain and overseas, providing legal advice on insurance law, sale of goods, and yachting law disputes. Felipe has been involved in more than 6,200 cases over his prolific legal practice with an astonishing successful rate in and out of Court.
Areas of expertise:
Commercial, maritime, criminal, corporate and banking Laws including; sale of goods, agency, franchise and distribution contracts; charterparty disputes, bills of lading disputes, arrest and release of ships, cargo claims; marine insurance, international arbitrations, ship's detentions and casualties, sale and purchase of ships, liens and arrest of cargo, ship building and ship repair contracts; stevedores and bailment disputes; international trade disputes; cargo claims and dispute concerning all types of commodities; corporate and banking law; competition law; companies' evaluation, merge and acquisitions, letters of credit and letters of guarantees; freight forwarding, CMR disputes; insurance and civil liability Laws.
Languages: English, French, Italian, and Spanish
Location : Jerez and Málaga offices
Contact details:
 felipearizon@arizon.es
+ 34 952 21 17 74
+ 34 952 22 66 76
"The saga continues" from right to left Dr. Arizon's Gfather, GGfather, GGGfather and GGGGfather, practising law in Spain since 1860.
WP, Without Prejudice
SaveSave